THERMOTEK SILICONE PRIMER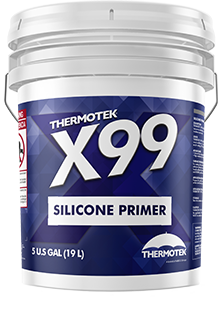 THERMOTEK SILICONE PRIMER
High-quality single component moisture cure silicone-based primer with excellent adherence to porous and non-porous surfaces. It is resistant to stain and blister, and well exhibits excellent alkalli resistance over masonery surfaces as well to corrosion resistance over metal.
APPLICATION
Ideal product for use as a priming porous and non-porous surface, to help improve the adhesion to different substrates such as: Metal, Wood, SPF, BUR, Modified Bitumen Rolls, Acrylic Coatings, Rigid Foam Insulation, XPS, Concrete, Stucco, Mortars
ADVANTAGES
Easy application
Improves top coat adhesion
High resistance to chemicals, solvents, heat, cold, rain, snow and air pollutants
Moisture curing
Prevents / stops the development of bacteria, fungi and algae.